World Superbike Racer
Join Date: Feb 2012
Location: Charlottesville, VA
Posts: 1,150
I Ride: 2009 Black ZX6R
You should now be concerned with the gasket. Make sure it's not damaged and that it doesn't have any kinks in it. remove it from the stator case if needed.
Next you need to clean off all the old gasket glue gunk off of the gasket, stator case and attachment on the bike.
Like I said previously, try and use a impact drill to get the screws out, I tried doing this by hand the first time and just stripped a couple screw heads. I had to use vice-grips to grab real hard and turn them out, I got lucky they came out.
After I got the old stator out, I replaced with an OEM one this time. They look better than the Ricks in my opinion. They seem to be protected better, see for yourself below. Also placed the rubber seal in the groove on the cover and pushed the wire as for away from the transformers as possible.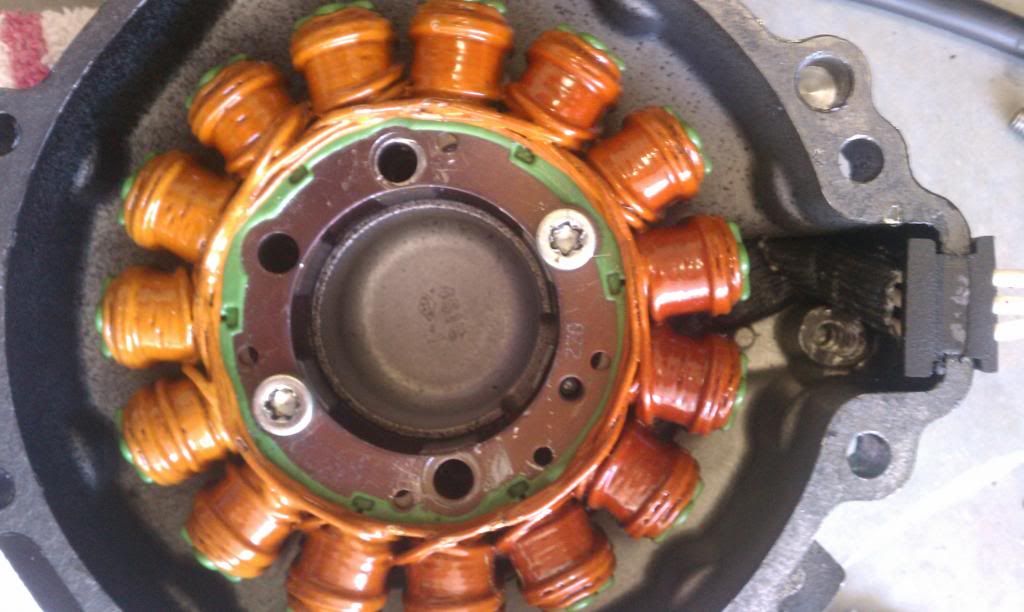 Your stator cover will have a screw and bracket to help with this, but I broke the screw hole the first time, so it will not keep the screw and bracket, which was a major reason my second stator's connecting wire burned, it got to close.
Ok, now the new stator is in, we need to use some oil resistant gasket sealer to reseal the gasket to the stator cover, and to the bike. Make sure all surfaces are cleaned off, then apply a nice bead of sealer all around the stator cover and around the screw holes.
In the image above notice a pin sticking out of the upper right hand corner of the stator cover. There are two, and the other goes in the opposite side. Don't lose them! They will make sure your cover is on correctly.
Run your wire through the hoses and get ready to run accross the bike in reverse of where you took it out from.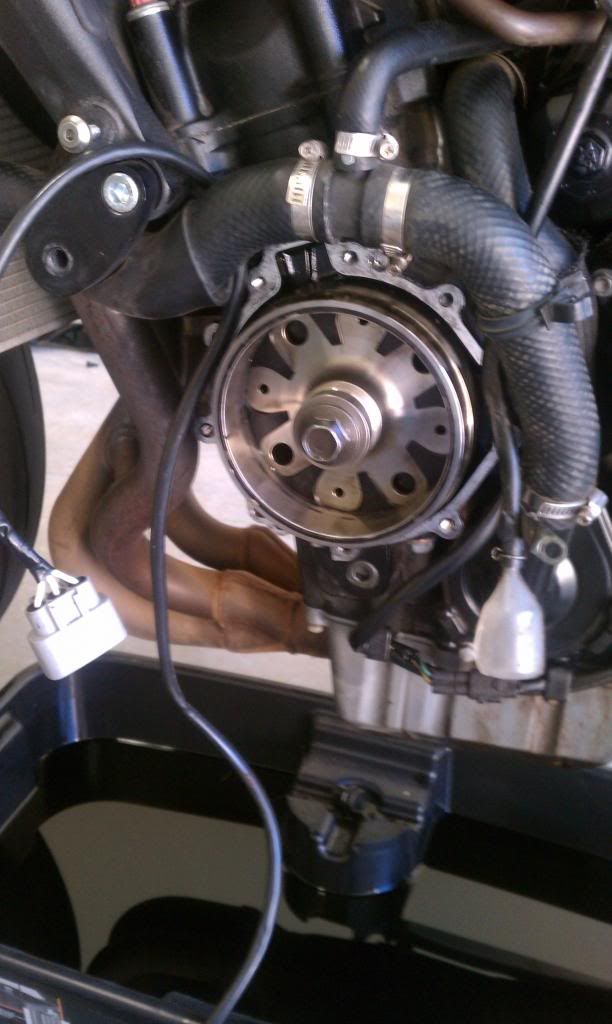 Next place the gasket on the stator cover and apply another bead of sealer ontop of the gasket, just like the stator cover. A good bead on both surfaces will ensure no oil leaking out when done. When your bead of sealer is done, then place the stator cover back onto the attachment on the bike, it is magnetic so it will pull it back. Make sure the pins are lined up and the cover is flush with the bike.
Put the screws back in and tighten down some, but not all the way. Wait an hour and tighten all the way down. Let the sealer sit for 24 hours before you start the bike.
Ok, it's time to put the bike back together!
---
______________________________________
WERA # 333 Novice
Posting Rules

You may not post new threads

You may not post replies

You may not post attachments

You may not edit your posts

---

HTML code is On

---